Vehicle Tracking is a very comprehensive transportation analysis and design solution for vehicle swept path analysis. It enables engineers, designers, and planners to evaluate vehicle movements on transportation or site design projects.
Transportation and site design projects, they all have one thing in common. When finished they need to accommodate a variety of different vehicles as a result. It is important to ensure that these vehicle maneuvers are analyzed and then incorporated throughout the entire design process.
Autodesk Vehicle Tracking is a tool to verify that designs will work for the real world once constructed. Whether or not a vehicle can navigate a parking lot, a fire truck navigating through site development to reach a potential fire, a garbage truck making a turn into a dumpster area, or to see if a delivery truck can navigate a parking lot and reach a loading dock.
Taking advantage of Autodesk Vehicle Trucking, we can optimize our design then minimize revisions when creating swept path analysis. Besides, we can evaluate safety and standards compliance and help meet permitting requirements.
CivilOutsourcing.com, we have successfully completed many Swept Path Analysis for Proposed Site Layout, Car Park, Junction or New Access Road, Residential, Commercial projects using Autodesk Vehicle Tracking to ensure that the designs will work with a variety of different vehicles such as Passenger Car, Garbage Truck, Fire Truck, Delivery Truck, Articulated Goods vehicles, Large Refuse Vehicle, Fire Tender, Large Tipper, …  in many of City/County or any vehicle you need.
*How our service works:
Send us a brief including your requirements (type of vehicle, PDF sketch) and PDF/CAD of your layout.
We will then send you a fee quotation right away. After you are fine with fee then we will start to do Swept Path Analysis.
Preliminary Delivery/ Draft Drawings and Corrections per your comments.
Final Delivery.
*Turnaround Time: Within 24 hours in most cases.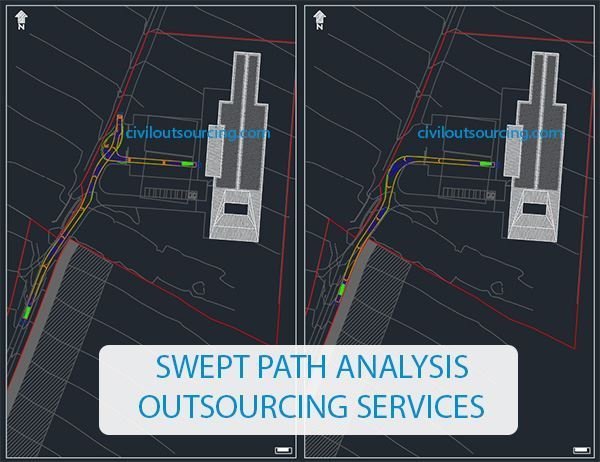 If you have any inquiries about Swept Path Analysis Services for your upcoming project, please do not hesitate to let us know via contact@civiloutsourcing.com or fill out the provided form below. Outsourcing your work to a sufficient provider always bring you great advantages in your business.